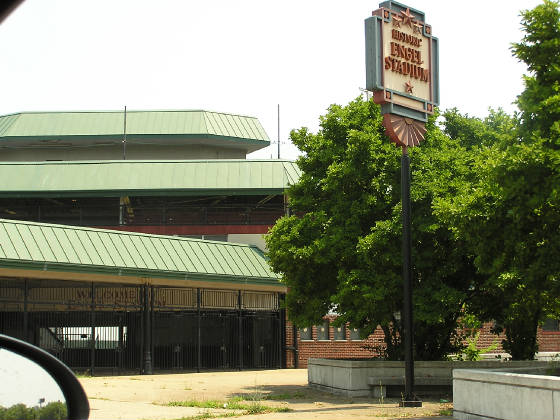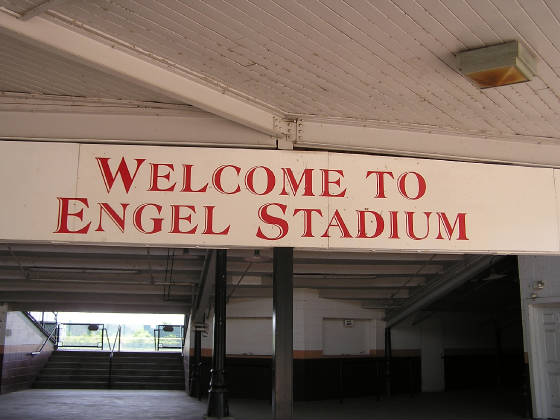 PARK ::: "HISTORIC" ENGEL STADIUM
LOCATION :::CHATTANOOGA, TENNESSEE
MY FIRST VISIT ::: JULY 2, 2006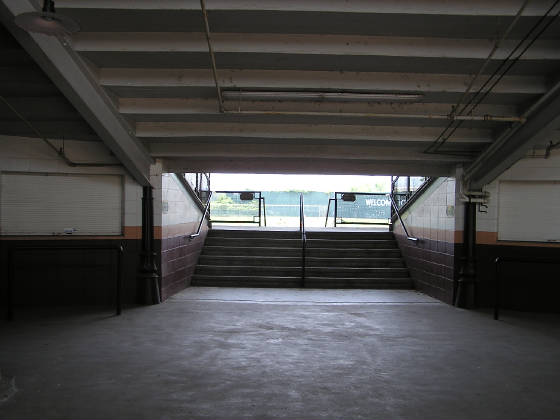 MY TAKE ON THE PARK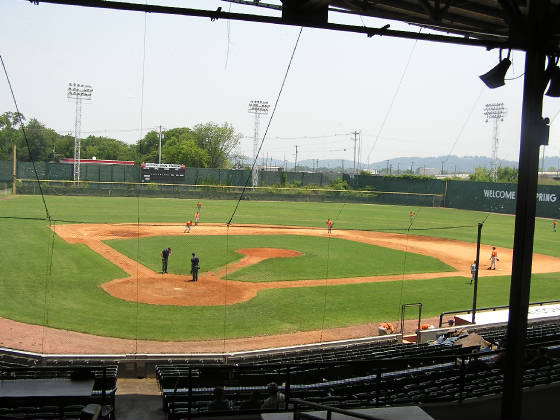 IF YOU HAVE FOUND THIS SITE IT IS EITHER BECAUSE YOU CLICKED ON THE LINK
OF ONE OF MY PAGES OR A SEARCH ENGINE BROUGHT YOU HERE. IF YOU SEARCH
ENGEL STADIUM YOU FIND THE EXTENSIVE HISTORY AND ALL OF THE SPECIAL
MOMENTS THAT HAVE OCCURRED HERE. THE ONLY KNOWLEDGE I HAD ON ENGEL
STADIUM PRIOR TO MY VISIT WAS IT WAS THE LONG TIME HOME OF THE
CHATTANOOGA LOOKOUTS UNTIL 1999. ON MY VISIT TO CHATTANOOGA, I SAW THE
SIGNS TO ENGEL STADIUM SO I FOLLOWED THEM BECAUSE I WAS CURIOUS TO SEE
IF WHAT HAPPENED IN DURHAM HAS HAPPENED HERE.

WHAT I FOUND WAS A STADIUM IN USE AND IT WAS OPEN, SO I WAS ABLE TO GO
IN AND WALK AROUND, AN AMATEUR GAME WAS BEING PLAYED IN FRONT OF ABOUT
10 PEOPLE.

WALKING IN I FOUND A STADIUM IN NEAR PERFECT CONDITION, THERE WAS AN OLD
SMELL TO THE PLACE, BUT IT LOOKED IN VERY GOOD CONDITION. THE THING THAT
STOOD OUT TO ME WERE THOSE OLD WOODEN SEATS, I WAS INSTANTLY HAPPY THAT
I WOULD NOT BE SEEING A GAME HERE, THESE SEATS MAY BE THE MOST
UNCOMFORTABLE TYPE OF SEAT IN STADIUMS.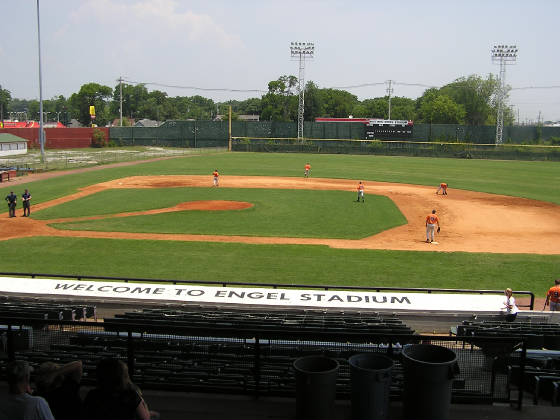 DOWN ON THE LOWER LEVEL THOUGH, THE BOX SEATS ALL SEEM TO BE NEW AND IN VERY GOOD CONDITION, I SAY VERY GOOD BECAUSE THIS PARK HAS NOT BEEN USED IN 6 YEARS.

THE CHARACTER IN THIS PARK IS IN THE CEILING, SOMETHING I'VE NEVER SEEN WERE THE FANS SPORADICALLY PLACED ALONG THE ROOF WHICH SPREADS ALL THE WAY AROUND FROM BEYOND FIRST BASE TO BEYOND THIRD BASE.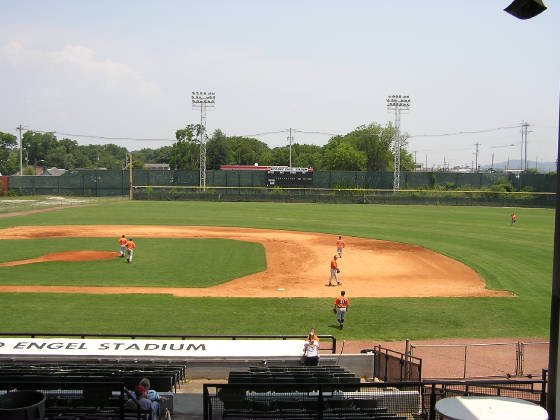 GOING UNDER THE STANDS TO THE CONCESSION AREA, IT IS DARK AND LOW, BUT
ANOTHER SURPRISE, THERE SEEMED TO BE A LOT OF ROOM UNDER THE STANDS.
THAT COULD BE BECAUSE I WAS THE ONLY ONE WALKING AROUND DOWN THERE.

THE LONGER I EXPLORED AROUND ENGEL STADIUM, THE MORE I COULD NOT BELIEVE
THAT THIS GEM WAS LEFT FOR A NEWER BALL PARK. IN THE WHOLE TIME I WAS
THERE, ONLY THE OLD WOODED SEATS STRUCK ME AS SOMETHING THAT WOULD NEED
TO BE REPLACED. AND, AFTER VISITING THE NEW CHATTANOOGA PARK, I WONDER
WHY THE NEW PARK WAS SEEN AS AN IMPROVEMENT.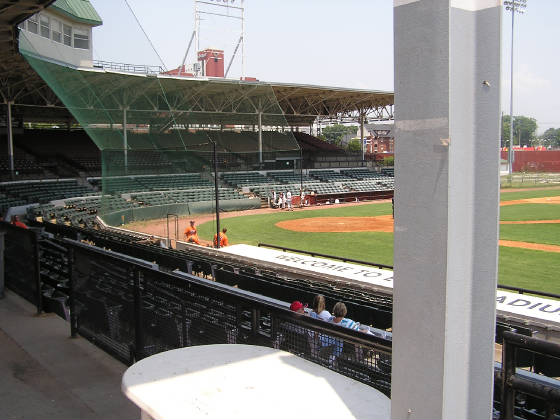 I UNDERSTAND PROGRESS AND I KNOW THAT PARKS ARE SUPPOSED TO GENERATE
REVENUE FOR THE CITY, BUT I THINK THE CHATTANOOGA LOOKOUTS SHOULD TAKE
ADVANTAGE OF A FACILITY THAT STANDS THE TEST OF TIME AND PLAY A FEW
GAMES AT THIS CLASSIC PARK. ANOTHER SOUTHERN LEAGUE TEAM DOES THIS, THE
BIRMINGHAM BARONS PLAY ONE GAME A YEAR AT THE CLASSIC RICKWOOD FIELD.

MY FIRST IMPRESSION WAS THE LOUSY WOODEN SEAT .. MY LASTING IMPRESSION
IS I WOULD GLADLY SIT IN THAT SEAT TO ENJOY AN EVENING OF BASEBALL. IF
EVER IN THE CHATTANOOGA AREA, FORGET RUBY FALLS. TAKE A RIDE OVER TO
ENGEL STADIUM AND LOOK AROUND. THIS IS THE PLACE THAT A 17 YEAR OLD
WOMAN STRUCK OUT BABE RUTH AND LOU GEHRIG IN 1932. THERE ARE 74 YEARS OF
HISTORY THAT FOLLOW THAT MOMENT.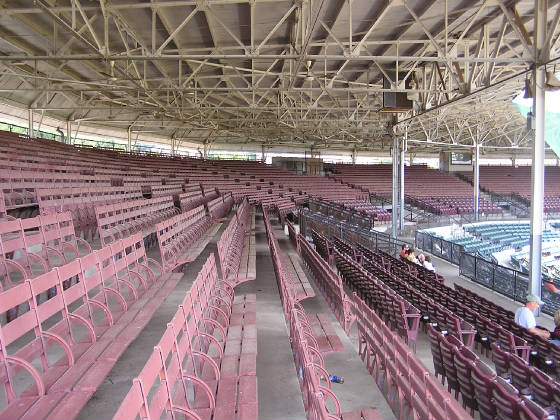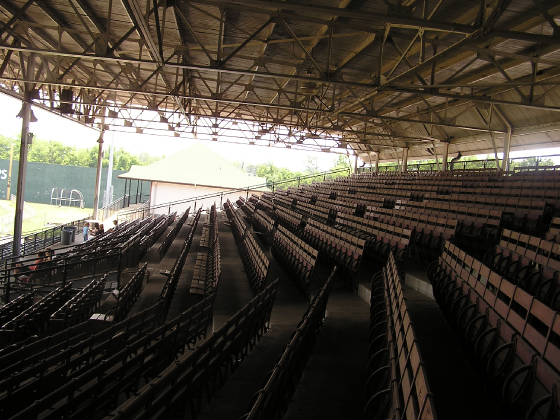 SEND ME AN E-MAIL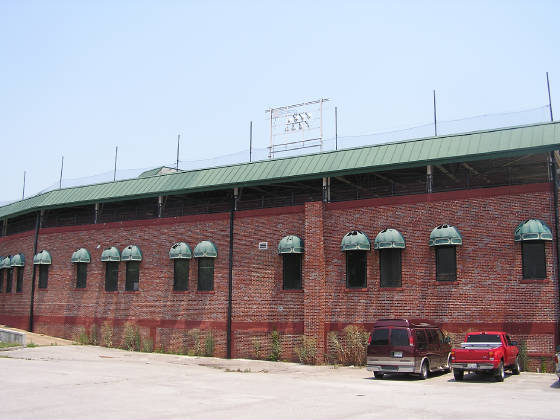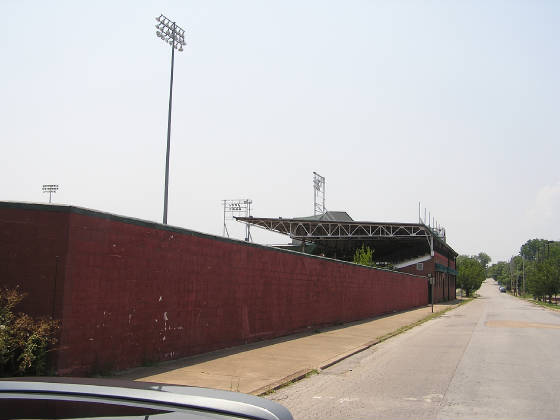 LINKS
The former tenant at Engel Stadium - The Official web site of the Chattanooga Lookouts
Just one story of Jackie Mitchell - The woman that struck out Babe Ruth
Andy Broome's site ::: www.SaveEngelStadium.org
Tennessee Historic Ballparks Reference